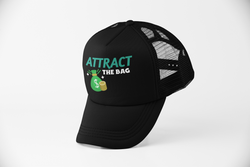 Attract The Bag Trucker Hat
You attract the bag and manifest the hustle when you spark thought, create vision, seek knowledge, take action, and execute. 

Designed in mind to stand out & look fresh with the black trucker style mesh snapback with the "Attract the Bag" w/ the money bag; embroidered in green, white, & gold stitch
Made with acrylic + cotton blend
Adjustable plastic snap in the back to give you that luxurious fit to your head

.
Made for the everyday hustle & those striving for financial freedom.